Glen Rhodes – The Wedding Reception Entertainment Specialist – www.weddingentertainer.com.au
Ok you are looking for some wedding reception entertainment, if like me, you are based in Brisbane, then thankfully you only have 250,000 Google search results to search through for "wedding reception entertainment Brisbane
Yes, I know you only need one! So let me save you some time.
There are many things that may be remembered about a wedding reception and the entertainment option you choose is definitely one of them, a survey revealed that after the wedding reception most brides wished that had spent more on their entertainment.
As a magician, I have entertained at more wedding receptions than any other magician in the country and I can tell you that magic entertainment and wedding receptions are a perfect match.
My unique style ofroving and stage show magic will leave a lasting impression that will be remembered long after the event.
The 3 most common times for wedding reception entertainment
The Ice Breaker
As a meet and greet as your guests arrive at the wedding reception venue. Often people are going into a room where they do not know the other guests, it can be an uncomfortable time. Imagine having some very cool stylish and more importantly, interactive entertainment, that will get people laughing, talking and interacting. My magic wedding reception entertainment combined with my comedic personality will give your guests something to talk about as I bring them together in a fun and entertaining way.
The Wedding Photo Gap
There is often a time during the wedding reception when the bridal party head off for photographs leaving a gap in the reception where the other guests are just left to sit and talk. To keep the energy levels high, I use my entertaining and magic abilities to keep people occupied and engaged so that the time flies by until the bridal party return and the formalities continue.
After Dinner Entertainment
After dinner entertainment is very popular, the guests have enjoyed a nice meal and are in the mood for entertainment. Not everyone wants to get up and dance and this is where table side wedding reception entertainment can really shine. Very cool miracle happening at you table, right before your very eyes, the reactions will help create that fun atmosphere that will be remembered for a long time to come.
So there you have, magic entertainment and wedding receptions are made for each other. Contact me for a no obligation chat on how I can bring so real magic to your wedding reception.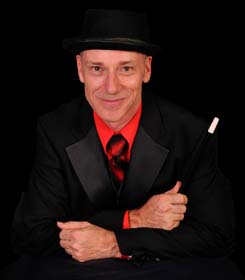 Glen Rhodes – The Wedding Entertainment Specialist – Phone: 07 3300 1741
www.weddingentertainer.com.au