Mentalist
Creating Memorable Events!
Brisbane Magician & Mind Reader for Company Functions, Special Events,
Gala Dinners, Conferences, Award Nights, Celebrationsand so much more!
Roving and Stage Show Entertainment
Glen left us wondering whether we had just seen real magicamazing!
Mentalism Stage Show
If you're looking for a unique cabaret styled, stylish lounge act- CorporateMagician & Mentalist, Glen Rhodes offers just this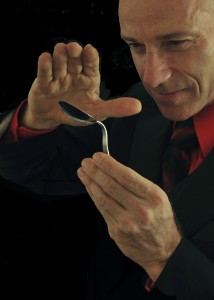 A 40 minute stand up exclusive theatrical experience. Incredible magic, storytelling, mind reading and mystique all mixed together to create for you and your guests, a memorable experience. This is magic that's highly visual, modern and contemporary in nature.
Have your guests seated and watch as Glen amazes with his sleight of hand and the ability to read minds, influence decisions and predict outcomes. His finale is an edge of your seat nailbiter' as he risks all on the whim of an audience member.
Audiences all over the world have regarded his magic as unique, and a classic twist on contemporary conjuring.
Click Here for 3 Easy Ways to Contact Glen Rhodes Corporate Magician
Not so keen on Magic?
I have the solution!
Its Interactive, Entertaining and Amazing.
On other pages on this website I have spoken about the benefits of my versatile 'Roving Magic' and my unique, hilarious corporate 'Comedy Stage Magic Show' and 'Stand-up Comedy' magic show. There is a definite place for each of these styles and each will exceed your expectations.
I appreciate that at some corporate events you may require something a bit more 'Sophisticated', something for the discerning audience, something that stands out from all other forms of entertainment yet still has a dramatic positive impact on your guests…it will entertain and amaze in a very unique way.
I have worked as a corporate magician and entertainer for over 15 years…and it has taken many of those year to craft my 'Mentalism Show'…you may be thinking what exactly is Mentalism. Mentalism is using all the skills I have developed in misdirection, influencing outcomes, reading body language, directing decisions, chance and entertaining as a corporate magician…and turn this into a contemporary cabaret style 'mind reading' show
There are no magic tricks hereno doves, funny props or dancing girls, but you may be convinced that I can actually read your mind, predict your decisions and influence outcomes.
The show is very interactive and very entertaining and will have your guests talking about what they have witnessed for a long time to come. "What would have happened if I had chosen differently?" is a common question asked after the show…its intriguing!
The corporate Mentalism show start of with a game of chance to win some money.will I be able to talk your guests into giving me the moneyyou will make all the decisions…or at least that is what you think 🙂 , certain words have the power to influence.
The show continues to demonstrate abilities that we all have, yet I am the only one who has dedicated 10 years to learning how to use these skillits fun to watch and try and out guess me.
The show finale is a'killer'….I risk real danger in an interactive display that relies solely on the decisions of your guestslots of drama, lots of tension…and some humour with a little verbal influence from meit is a nail biting – edge of your seat act that will be a prefect finish to this unique show.
This is a modern, contemporary, stylish, interactive and unique show that is a guaranteed success for a discerning audience.
Contact Glen Rhodes, Brisbane corporate magician and entertainer on 0401 457 775 (or)
email: magicevents@optusnet.com.au