Exceptional Corporate Roving Magic
Creating Memorable Events!
"Glen Rhodes is a terrific sleight-of-hand magician, with a warm charm and lively sense of humour"
Magic roving entertainment is sometimes known as Strolling, Mingle, Close-up or Walk Around Magic.
He actively mingles at the event with groups large and small directly involving the spectators in his miniature magic illusions, keeping the laughter and amazement happening all at the same time
His unique style of roving magic is performed close-up, right before your very eyes, even in your very own hands.It looks impossible!It is amazing! It is entertaining!whether reading the mind of a volunteer or vanishing an object right out of someone's hands, he will leave a lasting impression that will be talked about long after the event.
Magic roving entertainment is a very popular and flexible form of entertainment able to cater to all age groups creating the perfect roving entertainment for Corporate Events, Work Functions, Festivals, Wedding Receptions and Private Parties.
Glen Rhodes is a Brisbane based rovingmagician available for interstate and international engagements. Originally from the UK, he has performed his unique style of close up, magic rovingentertainment in Europe, America and Australasia.
CLICK to WATCH…
Incredible closeup magic, laughter,amazement, interaction, entertainment…
bookBrisbane's finest RovingMagician – Glen Rhodes
That All Sounds Absolutely Great. What Now?
Click Here for 3 Easy Ways to Contact Glen Rhodes Premier Roving Magician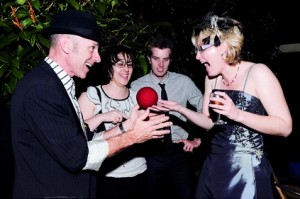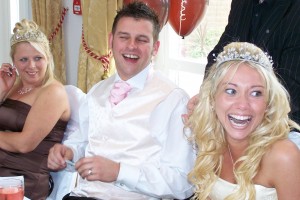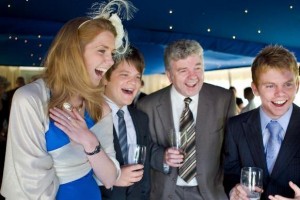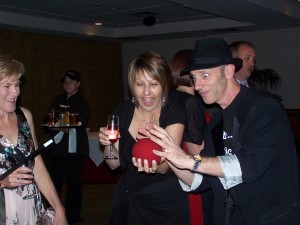 ShhhHere's a Secretabout Roving Magic
What makes the roving magic style of Brisbane magician, Glen Rhodes, so unique? How does he outshine all other roving magicians, even the ones who have greater technical skills?
It is a big secret that is going to be revealed here for the first time.
He has developed a unique roving magic performing style that plays to large groups, his focus is on Entertainment! not displaying technical manoeuvres.
He uses roving magic as a tool to entertain, to get people laughing, clapping, cheering, interacting and having fun.
When you have him in the room you will know he is there, you will hear and see your guests enjoying themselves.
So many other roving magicians do small tricks that can only be see by 2 or 3 people at a time, yes those individual have been entertained but the atmosphere of the room has not been lifted, often you would not even know the magic man has been in the room They are going there to show how clever they are and are forgetting the reason why they are being hiredto Entertain!
He also incorporates large visual magic tricks that can be seen from across the room, it builds anticipation, it gets people interested and excited they can't wait till he comes over to see them. His roving magic style is highly interactive, people are helping! participating and interactingthey are the stars of the show.
A common approach used by many others is to victimise, humiliate or scare your guests for the entertainment of othersthat's not entertainment it's wrong!
He has a witty sense of English humour and a charming personality that will engage all your guests, his style is clean, fun, combined with mind blowing magic abilities and 20 years of performing and entertaining experience don't settle for less book Glen Rhodes, Brisbane's Best Roving Magician today on 0401 457 775 or email: magicevents@optusnet.com.au