Brisbane Magician
Corporate Entertainer | Comedian |Magician | MC
Creating Memorable Events!
Brisbane Magician for Corporate Events, Private Parties, Trade Shows,Conferences, Weddings, Celebrationsand so much more!
Glen Rhodes is a terrific sleight-of-hand magician, with a warm charm and lively sense of humour
Whether simply to mystify and entertain, or to promote a product or theme,
BrisbaneMagician Glen Rhodes
supplies mind-blowing magic entertainment tailored to your event
Glens roving and stage show performances are clean, original, hilarious and highly interactive.He will create an entertainment experience that is absolutely memorable and guaranteed to please even the most discerning spectators
Let Glen Rhodes;
Adult Magician Queensland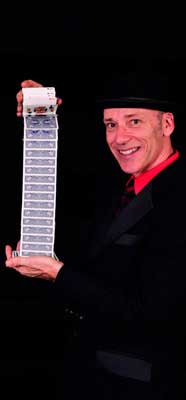 Entertain at a Corporate Dinner
Roving or Walk Around Magic is extremely entertaining and will have your guests raving about all the fun they had for many years to come.
Bring traffic to your Trade Show booth

A proven way to gain valuable leads, magicians have been successfully used all over the world, by many of the worlds largest blue chip companies and corporations to gain that extra edge.

Liven up your Sales Meeting

Add some magic and entertainment to your next sales meeting and let Glen show your team a cool business trick that your sales team will use to promote your business

Promote your Product

Gain impact with your product or message by incorporating them into a magic trick that will stay in the mind of your customers

Amaze your guests at an Awards Night

Get the evening off to a great start with an hilarious comedy magic show to get everyone fired up for a big night of awards.

Astonish at your Conference

Some conferences are very intense and it is well known that a short change of pace and relaxation will refresh the minds of the participants

Add some real magic to your Christmas Party

Responsible for organising the company Christmas Party?. This year try something different, a guaranteed success!. Ill get the party off to a magical start and they will be wondering how you came up with such a great idea.

Bring fun, laughter and mystery to your Private Party

Planning a celebration? Want something different? Glenwill mingle with your guests, amaze and entertain them with interactive sleight of hand magic.

Create amazing Wedding Receptions

Magic and wedding receptions are a perfect combination. Keep your guests entertained during photo shoot, before or after the main meal.
If fact, Glen can customize his magic entertainment to fit any occasion.
We were captivated by your performanceRoyal Brisbane Hospital
You made sure the party kicked off with a bang Queensland Radio
People have been talking about Glen the Magician for days Well done!! Video Pro
Everyone was very impressed with your performance at our dinner dance Port of Brisbane
I really wish to thank you for such a wonderfully professional, entertaining performance RCC
Glen, That All Sounds Absolutely Great. What Now?
Click Here for 3 Easy Ways to Contact Glen Rhodes Premier BrisbaneMagician
About Brisbanes Most Popular Magician
Glen Rhodes Magician, Entertainer and MC
Glen Rhodes is a Brisbane based Magician, Comedian, Mentalist, Entertainer and Master of Ceremonies. He is a cheeky chap from London, England. His shows are perfect combination of witty charm, stand up comedy and mind blowing magic entertainment that is guaranteed to have you believing the impossible is, indeedpossible.
Glen performs more than 400 shows per year making him one of the busiest magical entertainers in Australia. What does this mean for you?Experience! Glen has a wealth of knowledge gained from performing 1000s of shows and will ensure that you next event will be even more successful and, will tailor a show to suit your audience.
Glen has been creating memorable events for over 15 years and has worked at just about every sort of venue and event, from a small group of businessmen in a city apartment to several hundred at a comedy club. Glen was a weekly performer at The Albion Comedy club for over a year. So whether you are hosting a gala dinner, an awards night, a private party, conference, convention or Christmas party, Glen Rhodes can offer practical, helpful advise that will add some real magic to you next corporate event or private party.
Glen is an experienced, professional magical entertainer based in Brisbane but available throughout Queensland, Australia and internationally. You can hire Glen with confidence , knowing he is 100% reliable and guarantees the success of his shows, he has a successful formula that always gets rave reviews and is happy to work with you to get the entertainment you require
From wedding receptions, trade shows and conferences, Glen will create fun, laughter and mystery with his unique blend of clean comedy and jaw dropping magic
Glen is a member of the International Brotherhood of Magician and past Secretary of the Queensland Society of Magicians.
Dont Settle For Less!